FACTS: da narrazioni alternative alle vere storie dei cittadini europei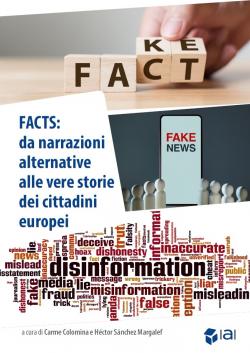 The project FACTS (From Alternative Narratives to Citizens True EU Stories) aimed to test the robustness of the traditional narrative of peace and prosperity that is still evoked as the main achievement of the European Union. FACTS tried to contrast if time has made a dent in this narrative; if it continues to be a powerful mobilizing factor; or if mobilized and non-mobilized citizens think of a different narrative than that of peace and prosperity. The project compared the perspectives of citizens in different member states exploring whether the divergences, if any, are geographic; if the narratives remain just as strong as in different times; and whether age or gender play a decisive role in citizen's position regarding the EU. The aim was to answer questions such as what makes citizens more inclined to believe alternative narratives, rumours or fake news and if there were common trends in all these false narratives about the European Union. Finally, FACTS brought together citizens from each member state that had participated in the project with national parliamentarians to discuss the main findings of the project and encourage the exchange of ideas. The ultimate goal was that mobilized and non-mobilized citizens could speak directly with their democratically elected political representatives and could convey to them their positions and vision regarding the European Union, especially those related to narratives and disinformation.
Translation of the work "FACTS: From Alternative Narratives to Citizens True EU Stories" originally published in English by CIDOB (Barcelona Centre for International Affairs) in 2022 as a CIDOB Monograph #84 (ISBN: 978-84-18977-05-3). Translation from the english by Marianna Grimaldi.

9788893682640.pdf
Details

Rome, IAI, September 2022, 50 p.

ISBN/ISSN/DOI:

978-88-9368-264-0
From Alternative Narratives to Citizens True EU Stories: un'introduzione a fatti, convinzioni e dibattiti, di Carme Colomina

La logica dietro il progetto FACTS: perché bisogna promuovere la democrazia deliberativa nell'UE, di George Andreou

FACTS nazionali a confronto: divari e narrazioni comuni, di Federico Castiglioni

Metodologia FACTS: un dialogo finalizzato a comprendere i cittadini, di Adriano Rodari

Conferenza conclusiva del progetto FACTS: alla fine della strada, proseguire, di Sophie Borkel e Héctor Sánchez Margalef

FACTS – Dalle narrazioni alternative alle vere storie dei cittadini europei: un progetto all'altezza del suo nome, di Krzysztof Glowacki

Allegati
Autori