The Evolving Security Landscape Around the Arabian Peninsula: A Saudi Perspective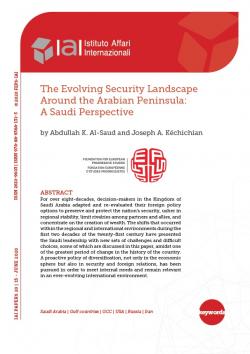 For over eight-decades, decision-makers in the Kingdom of Saudi Arabia adapted and re-evaluated their foreign policy options to preserve and protect the nation's security, usher in regional stability, limit rivalries among partners and allies, and concentrate on the creation of wealth. The shifts that occurred within the regional and international environments during the first two decades of the twenty-first century have presented the Saudi leadership with new sets of challenges and difficult choices, some of which are discussed in this paper, amidst one of the greatest period of change in the history of the country. A proactive policy of diversification, not only in the economic sphere but also in security and foreign relations, has been pursued in order to meet internal needs and remain relevant in an ever-evolving international environment.
Paper produced in the framework of the FEPS-IAI project "Fostering a New Security Architecture in the Middle East", June 2020.

iaip2015.pdf
Details

Roma, IAI, giugno 2020, 27 p.

In:


Issue

20|15

ISBN/ISSN/DOI:

978-88-9368-131-5
Introduction
1. Saudi relations with leading global powers
2. Adjusting to a new regional landscape
3. Regional security: Increased burdens for increased threats
4. Gulf security: Russian, US and Iranian proposals
Conclusion
References