The Evolution of EU Policy and Law in the Environmental Field: Achievements and Current Challenges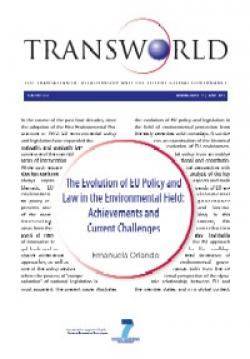 In the course of the past four decades, since the adoption of the First Environmental Programme in 1973, EU environmental policy and legislation have expanded dramatically, and gradually become one of the main EU areas of intervention. While such expansion has not been always unproblematic, EU environmental policy represents one of the most interesting areas from the point of view of innovative legal tools and inclusive governance approaches, as well as one of the policy sectors where the process of "europeanisation" of national legislation is most apparent. The present paper illustrates the evolution of EU policy and legislation in the field of environmental protection from the early seventies until nowadays. It combines an examination of the historical evolution of EU environmental policy from an institutional and constitutional perspective with analysis of the key aspects and main trends of EU environmental governance and law-making. In this context, this contribution also highlights the EU approach to the multilayered dimension of environmental governance, both from the internal perspective of the dynamic relationship between EU and the member states, and in a global context.
Paper produced within the framework of the IAI project Transworld.

TW_WP_21.pdf
Details

Roma, Istituto affari internazionali, 2013, 22 p.

Issue

21
Introduction
1. Early Steps of the EU in the Environmental Field
2. Consolidation of EU Environmental Policy
    2.1. The Single European Act and the Introduction
    of an Explicit Legal Basis for EU Environmental Law and Policy
    2.2. The Role of the ECJ in the Development of EU Environmental Law
3. From Maastricht to Amsterdam: Environmental Protection Among the Union's Objectives
4. Integration, Differentiation and Flexibility in EU Environmental Policy
5. From Nice to Lisbon
6. Growing Role of the External and International Dimension of EU Environmental Policy
7. Specific Developments in the Field of Environmental Liability
8. Environmental Protection After Lisbon: Achievements, Emerging Trends and Present Challenges
Concluding Remarks
References