European External Actions in a Multilateral Arena: An Analysis of EU Relations with Brazil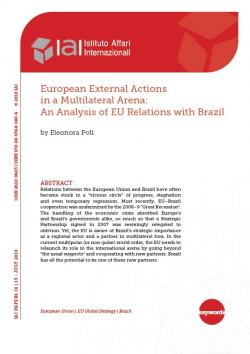 Relations between the European Union and Brazil have often become stuck in a "vicious circle" of progress, stagnation and even temporary regression. Most recently, EU–Brazil cooperation was undermined by the 2008–9 "Great Recession". The handling of the economic crisis absorbed Europe's and Brazil's governments alike, so much so that a Strategic Partnership signed in 2007 was seemingly relegated to oblivion. Yet, the EU is aware of Brazil's strategic importance as a regional actor and a partner in multilateral fora. In the current multipolar (or non-polar) world order, the EU needs to relaunch its role in the international arena by going beyond "the usual suspects" and cooperating with new partners. Brazil has all the potential to be one of these new partners.
This paper builds on the main issues arisen in the debate which has taken place within the international conference "Meeting the Challenges: Europe, Brazil and Global Governance", organized in Brasilia on 6 December 2017 by the EU Delegation to Brazil.

iaip1813.pdf
Details

Rome, IAI, July 2018, 12 p.

In:


Issue

18|13

ISBN/ISSN/DOI:

978-88-9368-080-6
Introduction
1. The EU Global Strategy: a new approach to global politics
2. The EU's relationship with Brazil
3. The EU and Brazil: current and future paths for cooperation
Conclusion
References