European Energy Security Challenges and Global Energy Trends: Old Wine in New Bottles?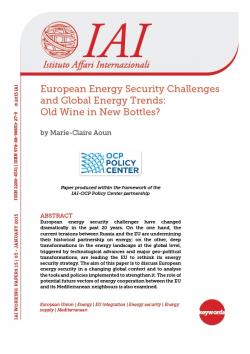 European energy security challenges have changed dramatically in the past 20 years. On the one hand, the current tensions between Russia and the EU are undermining their historical partnership on energy; on the other, deep transformations in the energy landscape at the global level, triggered by technological advances and major geo-political transformations, are leading the EU to rethink its energy security strategy. The aim of this paper is to discuss European energy security in a changing global context and to analyse the tools and policies implemented to strengthen it. The role of potential future vectors of energy cooperation between the EU and its Mediterranean neighbours is also examined.
Paper produced within the framework of the IAI-OCP Policy Center partnership and presented at the international seminar "Morocco's Role in Fostering Euro-Mediterranean Energy Cooperation" organised in Rabat on 26 September 2014. Published also in OCP Policy Center Policy Papers, February 2015.

iaiwp1503.pdf
Details

Roma, Istituto affari internazionali, January 2015, 19 p.

Issue

15|03

ISBN/ISSN/DOI:

978-88-98650-27-9
Introduction
1. European energy security in a changing global energy context
2. The internal and external dimensions of the EU energy security strategy
    2.1 Towards the completion of the internal energy market?
    2.2 Europe is facing many challenges when looking at its own energy assets
    2.3 "Speaking with one voice" on external energy policy: an impossible quest?
3. What's in for the Mediterranean?
Conclusion
References