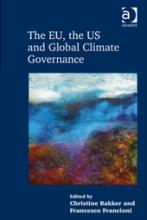 This volume presents a critical analysis of transatlantic relations in the field of environmental governance and climate change. The work focuses on understanding the possible trends in the evolution of global environmental governance and the prospects for breaking the current impasse on climate action.
Drawing on research involving experts from eleven different universities and institutes, the authors provide innovative analyses on policy measures taken by the EU and the US, the world's largest economic and commercial blocs, in a number of fields, ranging from general attitudes on environmental leadership with regard to climate change, to energy policies, new technologies for hydrocarbons extraction and carbon capture, as well as the effects of extreme weather events on climate-related political attitudes. The book examines the way in which the current attitudes of the EU and the US with regard to climate change will affect international cooperation and the building of consensus on possible climate policies, and looks to the future for international environmental governance, arguably one of the most pressing concerns of civilisation today.
This book, which is based on research carried out in the context of the EU-financed FP7 research project TRANSWORLD, will appeal to academics, policy makers and practitioners seeking a deeper understanding of the challenges resulting from climate change.
The book is based on research carried out in the context of the EU-financed FP7 research project Transworld.
Chapters 2-7 e 10-13 previously published in the series Transworld Working Papers, within the framework of the work package "Environment" lead by the European University Institute.
Details:
Farnham and Burlington, Ashgate, September 2014, xxxv, 273 p.
ISBN/ISSN/DOI:
978-0-415-52003-4 ; 978-0-415-52004-1 (ebk) ; 978-0-203-71949-7 (ePUB)
Figures and Tables
Contributors
Abbreviations

1. Introduction, by Christine Bakker and Francesco Francioni

Part I. The Evolution of the Global Environment
2. The evolution of the global environmental system: trends and prospects in the EU and the US, Francesco Francioni and Christine Bakker
3. The shifting locus of global climate policy leadership, Denny Ellerman

Part II. EU Competencies and Policies on Environmental Issues and Climate Change
4. The evolution of EU policy and law in the environmental field: achievements and current challenges, Emanuela Orlando
5. The evolution of EU competences in the field of external relations and its impact on environmental governance policies, Kati Kulovesi and Marise Cremona
6. The importance of coherent and integrated energy and agriculture policies in meeting EU climate change objectives, Antony Frogatt, Estelle Rouhaud and Tereza Svacinová
7. The European emission trading system: flashing lights, dark shadows and future prospects for global ETS cooperation, Simone Borghesi and Massimiliano Montini
8. Airplanes, trains and automobiles: the EU legislation on climate change and the question of consistency with WTO law, Stephanie Hiesinger and Petros Mavroidis
9. Primary sovereign rights or secondary environmental duties? Critical international law issues raised by the extraterritorial application of the EU emission trading system in the aviation sector, Ottavio Quirico

Part III. US Policies on Environmental Issues and Climate Change
10. New drivers of US climate change action? The politics of extreme weather and adaptation, Bernice Lee and Diarmuid Torney
11. Adjustments of US energy policy to climate change: trends at the federal and state level, Helena Schulzová
12. The new US domestic climate and clean energy agenda: the outlook for 2013, Nigel Purvis, Cecilia Springer and Samuel Grausz

Part IV. Cross-Cutting Issues
13. EU and US non-state actors and climate governance, Annalisa Savaresi
14. The governance of the Arctic environment: the EU and US contributions, Patrizia Vigni

Index