The EU-Turkey Deal and Its Implications for the Asylum Capacities of EU Border Countries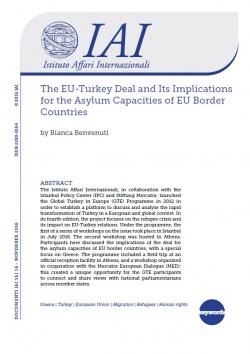 The Istituto Affari Internazionali, in collaboration with the Istanbul Policy Center (IPC) and Stiftung Mercator, launched the Global Turkey in Europe (GTE) project in 2012 in order to establish a platform to discuss and analyse the rapid transformation of Turkey in a European and global context. In its fourth edition, the project focuses on the refugee crisis and its impact on EU-Turkey relations. Under the project, the first of a series of workshops on the issue took place in Istanbul in July 2016. The second workshop was hosted in Athens. Participants here discussed the implications of the EU-Turkey deal for the asylum capacities of EU border countries, with a special focus on Greece. The programme included a field trip at an official reception facility in Athens, and a workshop organized in cooperation with the Mercator European Dialogue (MED): this created a unique opportunity for the GTE participants to connect and share views with national parliamentarians across member states.
Report from the field trip and seminar held in Athens on 3-4 November 2016 and organized by Stiftung Mercator, Istituto Affari Internazionali (IAI), and Istanbul Policy Center (IPC) within the framework of the project "Turkey, Europe and the World: Political, Economic and Foreign Policy Dimensions of Turkey's Evolving Relationship with the EU" (Global Turkey in Europe) in cooperation with the Mercator European Dialogue (MED).

iai1616.pdf
Details

Roma, IAI, November 2016, 6 p.

In:


Issue

16|16
Introduction
3 November: field trip
4 November: workshop