The EU and the Transformed Nuclear Context since the War in Ukraine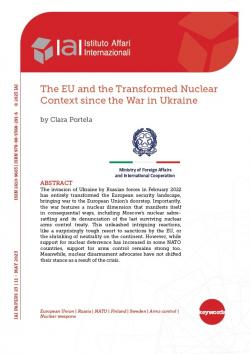 The invasion of Ukraine by Russian forces in February 2022 has entirely transformed the European security landscape, bringing war to the European Union's doorstep. Importantly, the war features a nuclear dimension that manifests itself in consequential ways, including Moscow's nuclear sabre-rattling and its denunciation of the last surviving nuclear arms control treaty. This unleashed intriguing reactions, like a surprisingly tough resort to sanctions by the EU, or the shrinking of neutrality on the continent. However, while support for nuclear deterrence has increased in some NATO countries, support for arms control remains strong too. Meanwhile, nuclear disarmament advocates have not shifted their stance as a result of the crisis.
Paper presented at the seminar "The War in Ukraine and the Future of Non-proliferation and Arms Control in the European Continent", organised in Rome on 10 March 2023.

iaip2311.pdf
Details

Rome, IAI, May 2023, 14 p.

In:


Issue

23|11

ISBN/ISSN/DOI:

978-88-9368-291-6
Introduction
1. Russian threats of nuclear-weapons use
2. More sanctions, less neutrality
3. The demise of bilateral nuclear-arms control between the US and Russia
4. Implications for the EU: An unchanged script?
Conclusions
References