The EU and the Six-Party Talks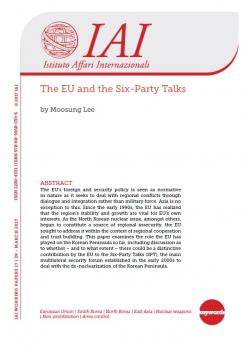 The EU's foreign and security policy is seen as normative in nature as it seeks to deal with regional conflicts through dialogue and integration rather than military force. Asia is no exception to this. Since the early 1990s, the EU has realized that the region's stability and growth is vital to its own interests. As the North Korean nuclear issue, amongst others, began to constitute a source of regional insecurity, the EU sought to address it within the context of regional cooperation and trust building. This paper examines the role the EU has played on the Korean Peninsula so far, including discussion as to whether – and to what extent – there could be a distinctive contribution by the EU to the Six-Party Talks (SPT), the main multilateral security forum established in the early 2000s to deal with the de-nuclearization of the Korean Peninsula.
Paper presented at the international conference "Trust Building in North East Asia and the Role of the EU" organized in Rome on 21 October 2016 by the Istituto Affari Internazionali (IAI) with the kind support of the Korea Foundation (KF).

iaiwp1709.pdf
Details

Roma, IAI, March 2017, 13 p.

Issue

17|09

ISBN/ISSN/DOI:

978-88-9368-035-6
Introduction
1. Evolution of the Six-Party Talks
2. The EU's contributions to the talks
3. The limits of the EU's engagement
Conclusion
References