Erdoğan, the Kurds, and Turkey's Presidential Elections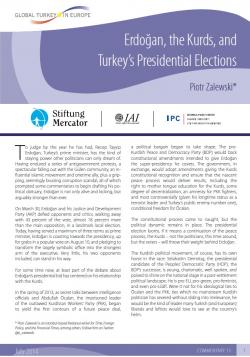 To judge by the year he has had, Recep Tayyip Erdoğan, Turkey's prime minister, has the kind of staying power other politicians can only dream of. Having endured a series of antigovernment protests, a spectacular falling out with the Gülen community and a gripping, seemingly bruising corruption scandal, all of which prompted some commentators to begin drafting his political obituary, Erdoğan is not only alive and kicking, but arguably stronger than ever. Today, having served a maximum of three terms as prime minister, he is coasting towards the presidency, up for grabs in a popular vote on August 10, and pledging to transform the largely symbolic office into the strongest arm of the executive. Very little, his two opponents included, can stand in his way. With the discussion among Turkish pundits having filtered down to whether Erdoğan will win in the first round or in the second, the question is not so much how the Kurds will affect the election, but how the election will affect the Kurdish peace process.
Paper produced within the framework of the project Turkey, Europe and the World.

gte_c_13.pdf
Details

Roma, Istituto affari internazionali, luglio 2014, 3 p.

Issue

Commentary 13