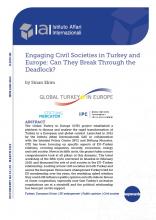 The Global Turkey in Europe (GTE) project established a platform to discuss and analyse the rapid transformation of Turkey in a European and global context. Launched in 2012 by the Istituto Affari Internazionali (IAI) in collaboration with the Istanbul Policy Centre (IPC) and Stiftung Mercator, GTE has been focusing on specific aspects of EU–Turkey relations, covering migration, security, economics, energy and civil society. Now in its fifth cycle, the project takes a more comprehensive look at all pillars of this dynamic. The latest workshop of the fifth cycle convened in Istanbul in February 2019, and discussed the role of civil society in the EU–Turkey relationship. Looking at how civil societies in both Turkey and across the European Union have championed Turkey's bid for EU membership over the years, the workshop asked whether they could still influence public opinion on both sides in favour of closer cooperation, especially now that Turkey's accession negotiations are at a standstill and the political relationship has been put on life support.
Report of the seminar "Engaging Civil Societies in Turkey and the EU: Can They Break Through the Deadlock?", organised in Istanbul on 1 February 2019 by the Istituto Affari Internazionali (IAI), Istanbul Policy Center (IPC) and Stiftung Mercator under the Global Turkey in Europe V programme.
Details:
Rome, IAI, March 2019, 7 p.
Introduction
Session I: A closer look at some civil society organisations in Turkey
Session II: What role can civil society play in EU–Turkey relations?
What is in store for Turkey's civil society?