Emerging Powers and Africa: From Development to Geopolitics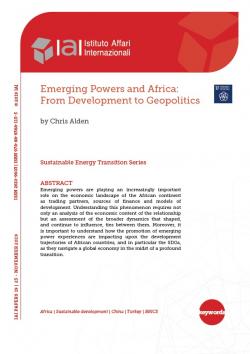 Emerging powers are playing an increasingly important role on the economic landscape of the African continent as trading partners, sources of finance and models of development. Understanding this phenomenon requires not only an analysis of the economic content of the relationship but an assessment of the broader dynamics that shaped, and continue to influence, ties between them. Moreover, it is important to understand how the promotion of emerging power experiences are impacting upon the development trajectories of African countries, and in particular the SDGs, as they navigate a global economy in the midst of a profound transition.
Paper prepared in the framework of the IAI-Eni Strategic Partnership, November 2019.

iaip1923.pdf
Details

Rome, IAI, November 2019, 14 p.

In:


Issue

19|23

ISBN/ISSN/DOI:

978-88-9368-115-5
Introduction
1. Emerging powers and Africa as "the last frontier"
2. Emerging powers, Africa and international recognition
3. The SDGs and emerging powers as models for African development
Conclusion
References