Economic and Social Policies in post-Mubarak Egypt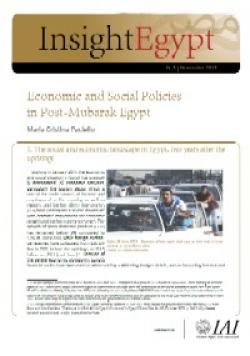 Starting in January 2011, the economic and social situation in Egypt has gradually deteriorated. The social issues that sparked the January 2011 protests have worsened and the demands for social justice that gushed from those massive demonstrations have remained utterly unattended. The political uncertainty that accompanied the post-revolt phase, combined with a persistent state of insecurity and instability, has been a severe hindrance to the Egyptian economic recovery. But mostly, the responses put together by the governments in charge in the months following the protests - in the field of fiscal policy, labour market and the energy sector - have not been adequate in dealing with the country's economic and social problems. All the successive governments have rehashed the same failed economic recipes of the preceding regime and have lacked a long term, consistent vision.
Paper produced within the framework of the IAI project "Egypt in transition".

inegypt_03.pdf
Details

Roma, Istituto affari internazionali, 2013, 8 p.

In:


Issue

3
1. The social and economic landscape in Egypt, two years after the uprisings
2. Social and economic policies
    The tax system and state subsidies
    Wage policy and labour market
    Energy policies