Democracy and Civil Society in Turkey: Contesting Tutelage!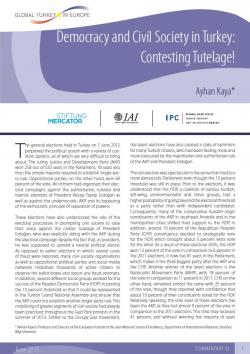 In the general elections held in Turkey on 7 June 2015, the ruling Justice and Development Party (AKP) won 258 out of 550 seats in the Parliament, 18 seats less than the simple majority required to establish single-party rule. The AKP has been the only loser of these elections, as they lost almost 9 percent of the vote in comparison to the 2011 elections. Turkish civil society has displayed its resistance against the growing civilian tutelage of the President Erdoğan, who is believed to be undermining the separation of powers and democratic governance. This paper underlines the initiatives undertaken by various civil society organisations to prevent any kind of fraud in the ballot boxes. Lastly, it discuss the success of the People's Democratic Party (HDP) in winning the consent of some of the liberal-minded voters as well as of the conservative Kurds in order to establish a social and political alliance following the legacy of the Gezi Park protests.
Paper produced within the framework of the project Turkey, Europe and the World.

gte_c_23.pdf
Details

Roma, IAI, June 2015, 3 p.

Issue

Commentary 23
Introduction
A Quest for Democracy: Popular Contestation Against Tutelage
The HDP and Selahattin Demirtaş' Charismatic Leadership
Conclusion