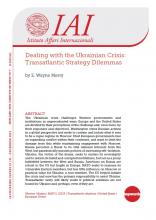 The Ukrainian crisis challenges Western governments and institutions in unprecedented ways. Europe and the United States are divided by their perceptions of the challenge and, even more, by their responses and objectives. Washington views Russian actions in a global perspective and seeks to contain and isolate what it sees to be a rogue regime in Moscow. Most European governments fear an expanding conflict within their continent, and want to limit the damage from this while maintaining engagement with Moscow. Russia perceives a threat to its vital national interests from the West, but paradoxically pursues policies of increasing self-isolation. Ukraine, the victim of the drama, seeks to sustain its sovereignty and to reform its failed and corrupted institutions, but not as a proxy battlefield between the West and Russia. Sanctions on Russia are robust in the US but fragile in Europe. NATO seeks to reassure its vulnerable Eastern members, but has little influence on Moscow or practical value for Ukraine, a non-member. The EU helped initiate the crisis and now has the primary responsibility to assist Ukraine. Transatlantic unity will likely erode if political solutions are not found for Ukraine and, perhaps, even if they are.
Revised version of a paper presented at the eigth edition of the Transatlantic Security Symposium "Challenges to European Security: A Transatlantic Perspective" organised in Rome on 26 October 2015 by the Istituto Affari Internazionali (IAI).
Details:
Roma, IAI, December 2015, 16 p.
1. The context: A redivided Europe
2. United States: Containment redux
3. European states: Searching for consensus
4. NATO: Back to the future?
5. EU: Finding the limits of "Europe"
6. OSCE: The poor relation among the institutions
7. Russia: Drawing a red line or self-isolation?
8. Ukraine: Seeking sovereignty, avoiding proxy war
Conclusion: What is to be done?
References