COVID-19 and the Oil Price Crash: Twin Crises Impacting Saudi-Iran Relations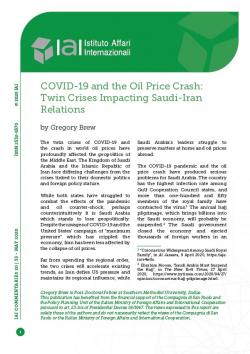 COVID-19 and the Oil Price Crash: Twin Crises Impacting Saudi-Iran Relations
Gregory Brew*

The twin crises of COVID-19 and the crash in world oil prices have profoundly affected the geopolitics of the Middle East. The Kingdom of Saudi Arabia and the Islamic Republic of Iran face differing challenges from the crises linked to their domestic politics and foreign policy stature.

While both states have struggled to combat the effects of the pandemic and oil counter-shock, perhaps counterintuitively it is Saudi Arabia which stands to lose geopolitically. Despite the ravages of COVID-19 and the United States' campaign of "maximum pressure" which has crippled the economy, Iran has been less affected by the collapse of oil prices.

Far from upending the regional order, the two crises will accelerate existing trends, as Iran defies US pressure and maintains its regional influence, while Saudi Arabia's leaders struggle to preserve matters at home and oil prices abroad.

The COVID-19 pandemic and the oil price crash have produced serious problems for Saudi Arabia. The country has the highest infection rate among Gulf Cooperation Council states, and more than one-hundred and fifty members of the royal family have contracted the virus.[1] The annual hajj pilgrimage, which brings billions into the Saudi economy, will probably be suspended.[2] The Saudi government closed the economy and ejected thousands of foreign workers in an attempt to slow the spread of the disease.[3]

Yet, while the disease threatens to de-stabilize the country internally, the collapse in oil prices poses an even greater risk, exacerbated by the miscalculations of the de facto ruler, Crown Prince Mohammed bin Salman.

Since 2016, Saudi Arabia has organised cuts in oil production, in cooperation with the Organization of Petroleum Exporting Countries (OPEC) and non-OPEC oil producer Russia, to combat the persistent supply glut. This alliance, known as "OPEC+," helped to stabilize oil prices between 50 and 60 US dollars/barrel after the price crash of 2014–2015. A stable price allowed Saudi Arabia, which depends on oil for 80 per cent of its budget expenses, to plan an ambitious reform plan, known as Vision 2030, championed by the Crown Prince.[4]

In March, as COVID-19 began to depress oil demand in China, Saudi Arabia tried to rally the rest of OPEC+ behind a new campaign of production cuts. Russia resisted the Saudi plan. With little warning, the Crown Prince announced that Saudi Arabia would abandon cuts and maximize oil production, crashing the oil price and forcing Russia back to the negotiating table.[5]

The strategy backfired. After the "price war" began on 8 March oil prices sank to less than 30 US dollars. Yet it soon became clear that COVID-19 would depress prices even more, unless action was taken. President Donald Trump reportedly called the Crown Prince and threatened to withdraw US military support unless Riyadh arranged a new production cut.[6] Saudi Arabia and Russia agreed to halt their price war. While a new OPEC+ production agreement was reached on 9 April, the group only agreed to cut 9.7 million barrels per day (bpd). COVID-19 is expected to reduce oil demand by 20-30 million bpd in May.[7] The Brent benchmark dropped in late April to less than 20 US dollars, its lowest level in decades, a sign that Saudi measures had done little to reassure oil markets.[8]

The Saudi budget requires prices of 55 US dollars/barrel in order to "break-even".[9] But Brent futures for the rest of the year are trading at 30 dollars/barrel or below. The Kingdom plans to borrow as much as 58 billion US dollars in 2020 while drawing down 31 billion US dollars from its reserves.[10] The Saudi economy will contract this year by as much as 3 per cent, and public spending will be reduced sharply.[11] The twin crises have cast doubts on the leadership of Crown Prince Mohammed bin Salman.[12] Vision 2030, as well as his plans to build a 500 billion US dollar "dream city", may be postponed.[13] In addition, the Kingdom will accelerate a campaign of foreign policy retrenchment, a move which may cede more ground to Iran, the chief Saudi regional adversary.

The Islamic Republic of Iran has been severely impacted by the COVID-19 pandemic, much more so than Saudi Arabia. One of the early epicentres of the pandemic, Iran was hit hard due to its slow response,[14] but also due to US sanctions, which have produced shortages of medical equipment. Given the weakened state of the Iranian economy, the Iranian government began discussing plans to reopen the economy in late April, in order to prevent a complete collapse.[15]

While the effects of the coronavirus have been severe, Iran has escaped the worst impact of the oil price crash. This is due to the decline in oil exports caused by the Trump administration's "maximum pressure" campaign.

By January 2020, US sanctions had reduced Iran's oil exports from 2.5 million bpd to less than 300,000 bpd. The budget for this fiscal year (March 2020–March 2021) was drafted under the assumption that Iran would export a small amount of oil.[16] Though the budget does predict earnings from oil to total 18 billion US dollars – a very optimistic figure[17] – further budget cuts and deficit spending may allow Iran to weather the financial storm. This domestic resilience also explains why Iran has not buckled under pressure from US sanctions and continues to represent a powerful antagonist to Washington and its regional allies in Israel and Saudi Arabia.

Tensions between the United States and Iran relaxed somewhat after the nuclear deal of 2015. But the Trump Administration unilaterally withdrew from the deal in May 2018, re-imposing economic sanctions. The move came with Saudi encouragement, as Riyadh (along with regional allies Israel and the United Arab Emirates – UAE) hoped that the US would abandon conciliation.[18] As its oil exports declined and its economy shrank, Iran escalated attacks on US and Saudi forces, increasing tensions while avoiding all-out war.

In September 2019, after the US extended oil sanctions on Iran, Iranian proxies allegedly launched an attack on the Saudi oil facility at Abqaiq. On 3 January 2020, the United States assassinated Iranian general Qassem Soleimani, an important commander in the Iranian Revolutionary Guards Corps (IRGC). The US claimed the killing was designed to "restore deterrence" and convince Iran to cease its attacks on US forces and allies.[19] This did not occur, however, in part because the killing of Soleimani infuriated Iranians and brought a retaliatory Iranian missile strike on US forces in Iraq. Far from deterring Tehran, the US move appeared poorly-planned and hastily executed.

Amid the confusion of COVID-19, Iran has seized an opportunity to further escalate its activities, taking advantage of the disorder within the United States.[20] Militias carried out additional attacks on US personnel inside Iraq, killing two on 11 March.[21] Iran has also stepped up its interdiction of oil tankers and dangerous naval manoeuvres in close vicinity to US military vessels in the Gulf.[22] On 22 April, the Islamic Republic launched its first military satellite, a demonstrations of the nation's advancing ballistic missile capabilities.[23] Iran, defying US pressure, has continued to expand its regional influence, notwithstanding its significant economic problems.

Saudi Arabia, in contrast, has sought to untangle itself from regional conflicts as it prioritizes stability at home. The Abqaiq attack startled the Saudi leadership, which took steps to reduce tensions with Iran.[24] On 8 April, Saudi Arabia and its allies agreed to a ceasefire in Yemen, ostensibly to maintain "health and safety" in light of the COVID-19 outbreak.[25] Riyadh is now seeking an exit from the conflict.

The withdrawal from Yemen comes as Saudi Arabia faces a serious fiscal crisis and a crisis of leadership. The Crown Prince's economic reform programme must be put on hold, as the Kingdom re-trenches at home and pulls back abroad. Iran, meanwhile, appears to be weathering both the oil shock and the COVID-19 crisis.

Despite the economic hardship and continued US pressure, the Islamic Republic does not appear on the verge of collapsing. The twin crises, far from upending the regional order, are accelerating existing trends, offering further opportunities for a defiant Iran to maintain and perhaps even expand its position in the face of a stumbling Saudi Arabia and an absent and distracted United States.


* Gregory Brew is Post-Doctoral Fellow at Southern Methodist University, Dallas.

[1] "Coronavirus Widespread Among Saudi Royal Family", in Al Jazeera, 9 April 2020, https://aje.io/e4w5x.

[2] Ebrahim Moosa, "Saudi Arabia Must Suspend the Hajj", in The New York Times, 27 April 2020, https://www.nytimes.com/2020/04/27/opinion/coronavirus-hajj-pilgrimage.html.

[3] Bruce Riedel, "Saudi Arabia Wants Out of Yemen", in Order from Chaos, 13 April 2020, https://brook.gs/2xioaAG.

[4] Saudi Arabia, Vision 2030, 2016, https://www.vision2030.gov.sa/en.

[5] Gregory Brew, "Saudi Arabia's Weaponization of Oil Abundance", in Middle East Report Online, 20 March 2020, https://merip.org/?p=86277.

[6] Timothy Gardner et al., "Special Report: Trump Told Saudi: Cut Oil Supply Or Lose U.S. Military Support - Sources", in Reuters, 30 April 2020, https://reut.rs/3f8NM3I.

[7] David Gaffen, "What the Future May Hold for Oil Amidst COVID-19", in World Economic Forum Articles, 26 April 2020, https://www.weforum.org/agenda/2020/04/the-week-when-oil-cost-minus-38-a-barrel-what-it-means-whats-coming-next.

[8] Pippa Stevens, "This Oil Price Crash Isn't As Bad As It Seems – Here's Why", in CNBC, 20 April 2020, https://www.cnbc.com/2020/04/20/this-oil-price-crash-isnt-as-bad-as-it-seems-heres-why.html.

[9] Dania Saadi, "Saudi Arabia's 'Realistic' 2020 Budget Assumes Lower Oil Price than 2019: Economists", in S&P Global Platts, 10 December 2019, https://www.spglobal.com/platts/en/market-insights/latest-news/oil/121019-saudi-arabias-realistic-2020-budget-assumes-lower-oil-price-than-2019-economists.

[10] Vivian Nereim, Matthew Martin and Reema Al Othman, "Saudi Response to Fiscal Shock Centers on Record Debt Plan", in Bloomberg, 22 April 2020, https://www.bloomberg.com/news/articles/2020-04-22/saudi-arabia-says-it-could-borrow-almost-60-billion-in-2020.

[11] Natasha Turak, "Saudi Arabia Hit with Moody's Downgrade, Prepares for 'Painful' Measures – But Can Likely Weather the Storm", in CNBC, 4 May 2020, https://www.cnbc.com/2020/05/04/coronavirus-oil-shock-saudi-arabia-gets-downgrade-painful-measures-ahead.html.

[12] Bruce Riedel, "In Saudi Arabia, the Virus Crisis Meets Inept Leadership", in Order from Chaos, 6 March 2020, https://brook.gs/2IqgDS5.

[13] Justin Scheck, Rory Jones and Summer Said, "A Prince's $500 Billion Desert Dream: Flying Cars, Robot Dinosaurs and a Giant Artificial Moon", in The Wall Street Journal, 25 July 2019, https://www.wsj.com/articles/a-princes-500-billion-desert-dream-flying-cars-robot-dinosaurs-and-a-giant-artificial-moon-11564097568.

[14] Maysam Behravesh, "The Untold Story of How Iran Botched the Coronavirus Pandemic", in Foreign Policy, 24 March 2020, https://foreignpolicy.com/2020/03/24/how-iran-botched-coronavirus-pandemic-response.

[15] "Iran Reopens Shops, Highways Amid the Coronavirus Pandemic", in Al Jazeera, 20 April 2020, https://aje.io/vsgb2.

[16] Henry Rome, "Iran's Crisis Budget", in The Iran Primer, 16 December 2019, https://iranprimer.usip.org/node/6771.

[17] Gregory Brew, "Iran and the Oil Price Crash: Will It Weather the Storm?", in The Fuse, 23 April 2020, http://energyfuse.org/?p=12453.

[18] Gregory Brew, '"Maximum Pressure:' The Trump Administration and Iran", in ISSF Policy Series, 22 January 2019, https://tiny.cc/PR-1-5BM.

[19] Daniel L. Byman, "Is Deterrence Restored With Iran?", in Order from Chaos, 16 January 2020, https://brook.gs/2NsmKIu.

[20] Colin P. Clarke and Ariane Tabatabai, "Why Iran is Still Attacking American Troops During the Pandemic", in Vox, 22 April 2020, https://www.vox.com/world/2020/4/22/21229509.

[21] Katie Bo Williams, "Iranian Proxies Killed Americans in Iraq, Pentagon Leaders Say", in Defense One, 12 March 2020, https://www.defenseone.com/threats/2020/03/iranian-proxies-killed-americans-iraq-pentagon-leaders-say/163727.

[22] Richard Spencer, "Oil Tanker Seized by Armed Men Off Iranian Coast", in The Times, 15 April 2020, https://www.thetimes.co.uk/article/oil-tanker-seized-by-armed-men-off-iran-coast-mg99t3l88.

[23] AP, "Iran Says It Launched a Military Satellite Into Orbit", in The New York Times, 22 April 2020, https://www.nytimes.com/2020/04/22/world/middleeast/iran-satellite-launch.html.

[24] Declan Walsh and Ben Hubbard, "With U.S. Help No Longer Assured, Saudis Try a New Strategy: Talks", in The New York Times, 26 December 2019, https://www.nytimes.com/2019/12/26/world/middleeast/saudi-iran-qatar-talks.html.

[25] "Saudi Arabia Looks for an Exit to the War in Yemen", in The Economist, 18 April 2020, https://econ.trib.al/pivuy25.


This publication has benefited from the financial support of the Compagnia di San Paolo and the Policy Planning Unit of the Italian Ministry of Foreign Affairs and International Cooperation pursuant to art. 23-bis of Presidential Decree 18/1967. The views expressed in this report are solely those of the authors and do not necessarily reflect the views of the Compagnia di San Paolo or the Italian Ministry of Foreign Affairs and International Cooperation.

iaicom2035.pdf
Details

Rome, IAI, May 2020, 5 p.

In:


Issue

20|35