Conflict Prevention in the EMP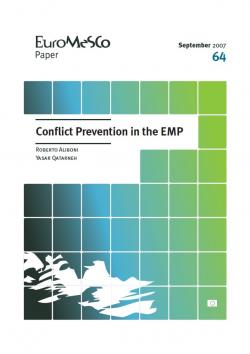 This study outlines the results of a survey on conflict prevention in the Euro-Mediterranean Partnership (EMP). It considers the issues of EU conflict prevention policy, EMP's southern partners' perceptions and policies of conflict prevention, as well as the possible development of a joint conflict prevention approach and policy within the EMP.
Report jointly submitted by the Istituto Affari Internazionali (IAI) and the Regional Center for Conflict Prevention (RCCP) in the framework of the EuroMeSCo project.
Details

Lisboa, EuroMeSCo Secretariat at the IEEI, September 2007, 29 p. (EuroMeSCo Papers ; 64)
Executive Summary
Introduction
1. EU conflict prevention policy
2. Conflict prevention in EMP's Southern members' perceptions and policies
3. Conflict prevention in the EMP circle
Recommendations
Attachment 1: Tables
Attachment 2: The Survey's Questionnaire