Comprehensive Security and New Challenges: Strengthening the OSCE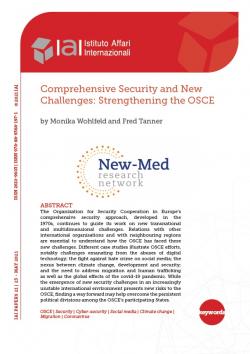 The Organization for Security Cooperation in Europe's comprehensive security approach, developed in the 1970s, continues to guide its work on new transnational and multidimensional challenges. Relations with other international organisations and with neighbouring regions are essential to understand how the OSCE has faced these new challenges. Different case studies illustrate OSCE efforts, notably challenges emanating from the abuses of digital technology; the fight against hate crime on social media; the nexus between climate change, development and security; and the need to address migration and human trafficking as well as the global effects of the covid-19 pandemic. While the emergence of new security challenges in an increasingly unstable international environment presents new risks to the OSCE, finding a way forward may help overcome the persistent political divisions among the OSCE's participating States.
Paper prepared in the context of the New-Med Research Network, May 2021.

iaip2123.pdf
Details

Rome, IAI, May 2021, 24 p.

In:


Issue

21|23

ISBN/ISSN/DOI:

978-88-9368-197-1
Introduction
1. New challenges and the OSCE
2. The OSCE's comprehensive approach to security
3. Relations with other international organisations and neighbouring regions
4. Case studies of new challenges
4.1 Cross-dimensional risks and threats of digital technology
4.2 Fight against hate crime on social media
4.3 The nexus between climate change, development and security
4.4 Migration and human trafficking
4.5 The new challenge of the covid-19 pandemic
5. The way forward on new challenges and comprehensive security
Conclusion
References