China's New Silk Road Initiative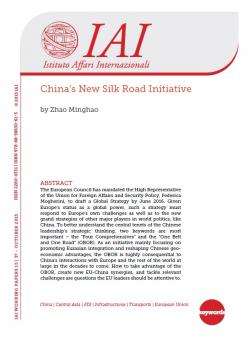 The European Council has mandated the High Representative of the Union for Foreign Affairs and Security Policy, Federica Mogherini, to draft a Global Strategy by June 2016. Given Europe's status as a global power, such a strategy must respond to Europe's own challenges as well as to the new grand strategies of other major players in world politics, like China. To better understand the central tenets of the Chinese leadership's strategic thinking, two keywords are most important – the "Four Comprehensives" and the "One Belt and One Road" (OBOR). As an initiative mainly focusing on promoting Eurasian integration and reshaping Chinese geo-economic advantages, the OBOR is highly consequential to China's interactions with Europe and the rest of the world at large in the decades to come. How to take advantage of the OBOR, create new EU-China synergies, and tackle relevant challenges are questions the EU leaders should be attentive to.
See also: "The Belt and Road Initiative and its Implications for China-Europe Relations", in The International Spectator, Vol. 51, No. 4 (December 2016), p. 109-118.

iaiwp1537.pdf
Details

Roma, IAI, October 2015, 11 p.

Issue

15|37

ISBN/ISSN/DOI:

978-88-98650-61-3
1. Why the OBOR?
2. Current developments
3. Impact on China-EU relations
Conclusion