China's Grand Vision and the Persian Gulf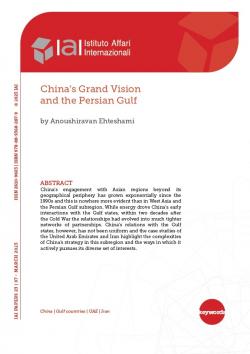 China's engagement with Asian regions beyond its geographical periphery has grown exponentially since the 1990s and this is nowhere more evident than in West Asia and the Persian Gulf subregion. While energy drove China's early interactions with the Gulf states, within two decades after the Cold War the relationships had evolved into much tighter networks of partnerships. China's relations with the Gulf states, however, has not been uniform and the case studies of the United Arab Emirates and Iran highlight the complexities of China's strategy in this subregion and the ways in which it actively pursues its diverse set of interests.
Paper prepared in the framework of the IAI-Eni Strategic Partnership.

iaip2307.pdf
Details

Rome, IAI, March 2023, 19 p.

In:


Issue

23|07

ISBN/ISSN/DOI:

978-88-9368-287-9
Introduction
1. The importance of the BRI
2. China-UAE relations
3. China-Iran relations
Conclusions
References