China's Foreign Policy in Northeast Asia: Implications for the Korean Peninsula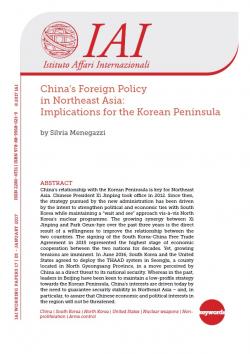 China's relationship with the Korean Peninsula is key for Northeast Asia. Chinese President Xi Jinping took office in 2012. Since then, the strategy pursued by the new administration has been driven by the intent to strengthen political and economic ties with South Korea while maintaining a "wait and see" approach vis-à-vis North Korea's nuclear programme. The growing synergy between Xi Jinping and Park Geun-hye over the past three years is the direct result of a willingness to improve the relationship between the two countries. The signing of the South Korea-China Free Trade Agreement in 2015 represented the highest stage of economic cooperation between the two nations for decades. Yet, growing tensions are imminent. In June 2016, South Korea and the United States agreed to deploy the THAAD system in Seongju, a county located in North Gyeongsang Province, in a move perceived by China as a direct threat to its national security. Whereas in the past, leaders in Beijing have been keen to maintain a low-profile strategy towards the Korean Peninsula, China's interests are driven today by the need to guarantee security stability in Northeast Asia – and, in particular, to assure that Chinese economic and political interests in the region will not be threatened.
Paper presented at the international conference "Trust-building in North East Asia and the Role of the EU" organized in Rome on 21 October 2016 by the Istituto Affari Internazionali (IAI) with the kind support of the Korea Foundation (KF).

iaiwp1703.pdf
Details

Roma, IAI, January 2017, 11 p.

Issue

17|03

ISBN/ISSN/DOI:

978-88-9368-021-9
1. Chinese interests in Northeast Asia
2. China's response to Pyongyang's nuclear strategy
3. Reactions towards Korean Peninsula unification
Conclusion and Recommendations
References