The China Nuclear Taboo and Russia's War in Ukraine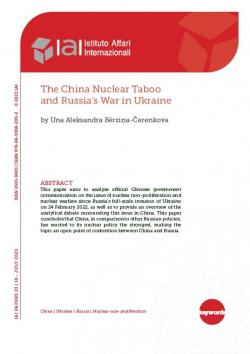 This paper aims to analyse official Chinese government communication on the issue of nuclear non-proliferation and nuclear warfare since Russia's full-scale invasion of Ukraine on 24 February 2022, as well as to provide an overview of the analytical debate surrounding this issue in China. This paper concludes that China, in comparison to other Russian policies, has reacted to its nuclear policy the strongest, making the topic an open point of contention between China and Russia.
Paper produced in the framework of the project "Countering Chinese Disinformation in Italy".

iaip2316.pdf
Details

Rome, IAI, July 2023, 15 p.

In:


Issue

23|16

ISBN/ISSN/DOI:

978-88-9368-299-2
1. Introduction: Background of the Chinese position
2. "Nuclear wars cannot be won": A glimpse of discord between Russia and China?
3. Conclusion – How far is too far for Beijing?
References