China and Middle East Security Issues: Challenges, Perceptions and Positions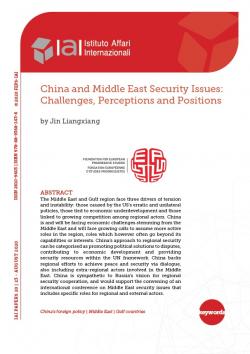 The Middle East and Gulf region face three drivers of tension and instability: those caused by the US's erratic and unilateral policies, those tied to economic underdevelopment and those linked to growing competition among regional actors. China is and will be facing economic challenges stemming from the Middle East and will face growing calls to assume more active roles in the region, roles which however often go beyond its capabilities or interests. China's approach to regional security can be categorised as promoting political solutions to disputes, contributing to economic development and providing security resources within the UN framework. China backs regional efforts to achieve peace and security via dialogue, also including extra-regional actors involved in the Middle East. China is sympathetic to Russia's vision for regional security cooperation, and would support the convening of an international conference on Middle East security issues that includes specific roles for regional and external actors.
Paper produced in the framework of the FEPS-IAI project "Fostering a New Security Architecture in the Middle East", August 2020.

iaip2023.pdf
Details

Rome, IAI, August 2020, 21 p.

In:


Issue

20|23

ISBN/ISSN/DOI:

978-88-9368-143-8
Introduction
1. The Middle East's worsening security environment
1.1 Tensions caused by external actors
1.2 Instability due to economic factors
1.3 Tensions due to regional competition
2. Challenges to China
3. China's role in regional security
4. Framework proposals for Gulf security: A Chinese view
Conclusion
References