The Changing Structure of Turkey's Trade and Industrial Competitiveness: Implications for the EU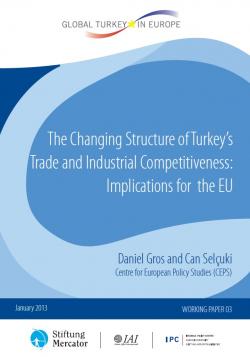 This paper presents a brief analysis of the main changes in the structure of Turkish trade and its industrial competitiveness, highlights some fault lines that need to be corrected if Turkey's international trade is to help it stay on a sustainable growth path and analyses the role which EU-Turkey trade can play in this. Trade has expanded considerably over the last decades, but more recently the share of exports in GDP has been declining, albeit slowly. While the growth of exports has been robust, it appears that an increasing proportion of Turkish exports contain imported intermediate inputs, which implies that the local value of Turkish exports might be growing by much less than one would expect from the high growth rates of overall exports. The high import content of Turkey's exports makes a correction of the trade imbalance via the exchange rate channel more difficult. Furthermore, Turkey's industry seems to be specialising in low to medium technology products. The structure of Turkey's comparative advantage has become different from both those of developing countries and some southern European countries. The Customs Union Treaty with the EU has helped Turkish firms to improve their competitiveness over the years. Turkey should benefit from being obliged to conclude free trade agreements (FTAs) with those countries that already have entered into such an agreement with the EU because this will reduce the margin of preference for EU goods in the Turkish market. Although this will come with a decrease in bilateral trade, it will help Turkey's welfare by means of reduction in trade diversion.
Paper produced within the framework of the project Turkey, Europe and the World. Publ. in IAI Research Paper 9.

GTE_WP_03.pdf
Details

Roma, Istituto affari internazionali, January 2013, 9 p.

Issue

Working Paper 3
Introduction
1. Change in competitiveness of Turkish exports
2. Geographical and sectoral composition of Turkish exports
3. EU-Turkey trade
4. Conclusion
Annex. Figures, Tables
References