Central European Initiative Dialogue Forum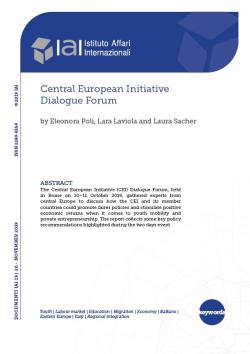 The Central European Initiative (CEI) Dialogue Forum, held in Rome on 10–11 October 2019, gathered experts from central Europe to discuss how the CEI and its member countries could promote fairer policies and stimulate positive economic returns when it comes to youth mobility and private entrepreneurship. The report collects some key policy recommendations highlighted during the two days event.
Report of the CEI Dialogue Forum on Youth organised in Rome on 10-11 October 2019, under the Italian CEI Presidency, by the Istituto Affari Internazionali (IAI) and the Italian Ministry of Foreign Affairs and International Cooperation.

iai1920.pdf
Details

Rome, IAI, November 2019, 10 p.

In:


Issue

19|20