Can Eastern Mediterranean Gas Discoveries Have a Positive Impact on Turkey-EU Relations?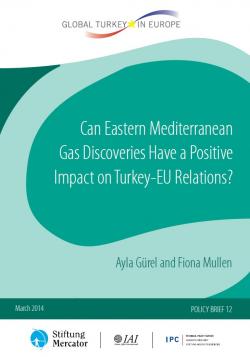 Any significant improvement in Turkey-EU relations depends on a solution to the Cyprus problem. A Cyprus settlement would allow the transfer of Eastern Mediterranean gas to the EU via Turkey, thus increasing Turkey's strategic significance for the EU as a key gas transit country for Europe's gas supplies. More critically, it would clear the way for meaningful progress in Turkey's EU accession process, which has been stalled because many chapters are being blocked for reasons related to the Cyprus problem. To date, gas found offshore Cyprus has made such a settlement more difficult by deepening the parties' divisions over sovereignty and has thus become an impediment to progress in Turkey-EU relations. Yet, there is a way in which the gas discovered in the Eastern Mediterranean – Israel as well as Cyprus – could conceivably help Turkey-EU relations: namely, a gas-cooperation scenario involving Israel, Cyprus and Turkey that offers strong enough incentives for all parties to solve the Cyprus problem.
Paper produced within the framework of the project Turkey, Europe and the World. Publ. in IAI Research Paper 13.

GTE_PB_12.pdf
Details

Roma, Istituto affari internazionali, March 2014, 8 p.

Issue

Policy brief 12
1. Turkey's Role as a Transit State for Gas Supplies to the EU
2. Turkey's EU Accession Process
3. The Need to Solve the Cyprus Problem
4. Impact of Cyprus Gas on Efforts to Solve the Cyprus Problem: The Sovereignty Question
5. Why Cyprus Gas Alone Is Not a Strong Enough Incentive
6. Can Gas from Cyprus and Israel Provide the Motivation?
7. Will Recent Developments Change the Parties' Calculations?
Conclusion