The Budgetary Future of Migration and Development Policy in the European Union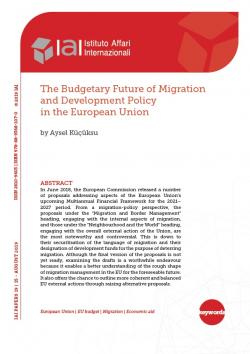 In June 2018, the European Commission released a number of proposals addressing aspects of the European Union's upcoming Multiannual Financial Framework for the 2021–2027 period. From a migration-policy perspective, the proposals under the "Migration and Border Management" heading, engaging with the internal aspects of migration, and those under the "Neighbourhood and the World" heading, engaging with the overall external action of the Union, are the most noteworthy and controversial. This is down to their securitisation of the language of migration and their designation of development funds for the purpose of deterring migration. Although the final version of the proposals is not yet ready, examining the drafts is a worthwhile endeavour because it enables a better understanding of the rough shape of migration management in the EU for the foreseeable future. It also offers the chance to outline more coherent and balanced EU external actions through raising alternative proposals.
Paper produced within the framework of the GEM-STONES research programme.

iaip1915.pdf
Details

Rome, IAI, August 2019, 17 p.

In:


Issue

19|15

ISBN/ISSN/DOI:

978-88-9368-107-0
Introduction
1. The Migration and Border Management budget proposal
1.1 The Migration factsheet
1.2 The Border Management factsheet
2. The Neighbourhood and the World budget proposal
2.1 The game-changing nature of the NDICI
2.2 The NDICI on poverty eradication and the Sustainable Development Goals
2.3 The increasingly problematic linkage of development and migration
Conclusions
References