Beyond business as usual: Igniting the AU-EU partnership on peace, security and governance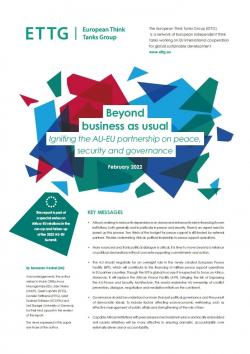 Africa is working to reduce its dependence on donors and enhance its role in financing its own institutions, both generally and in particular in peace and security. There is an urgent need to speed up this process. Two thirds of the budget for peace support is still funded by external partners. This risks undermining African political leadership in peace support operations. More nuanced and frank political dialogue is critical. It is time to move beyond a reliance on political declarations without concrete supporting commitments and action. The AU should negotiate for an oversight role in the newly created European Peace Facility (EPF), which will contribute to the financing of military peace support operations in EU partner countries. Though the EPF is global in scope it is expected to focus on Africa. Moreover, it will replace the African Peace Facility (APF), bringing the risk of bypassing the AU Peace and Security Architecture. This would undermine AU ownership of conflict prevention, dialogue, negotiation and mediation efforts on the continent. Governance should be understood as more than just political governance and the pursuit of democratic ideals, to include factors affecting socio-economic well-being, such as effective management of public affairs and strengthening of the rule of law. Capable African institutions with peer pressure mechanisms in place and locally embedded civil society initiatives will be more effective in ensuring domestic accountability over externally driven donor accountability.
Details

in ETTG Publications, February 2022, 7 p.