Balancing Power and Consensus: Opportunities and Challenges for Increased African Integration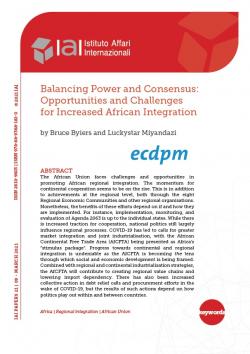 The African Union faces challenges and opportunities in promoting African regional integration. The momentum for continental cooperation seems to be on the rise. This is in addition to achievements at the regional level, both through the eight Regional Economic Communities and other regional organisations. Nonetheless, the benefits of these efforts depend on if and how they are implemented. For instance, implementation, monitoring, and evaluation of Agenda 2063 is up to the individual states. While there is increased traction for cooperation, national politics still largely influence regional processes. COVID-19 has led to calls for greater market integration and joint industrialisation, with the African Continental Free Trade Area (AfCFTA) being presented as Africa's "stimulus package". Progress towards continental and regional integration is undeniable as the AfCFTA is becoming the lens through which social and economic development is being framed. Combined with regional and continental industrialisation strategies, the AfCFTA will contribute to creating regional value chains and lowering import dependency. There has also been increased collective action in debt relief calls and procurement efforts in the wake of COVID-19, but the results of such actions depend on how politics play out within and between countries.
Paper prepared in the framework of the IAI-Eni Strategic Partnership, March 2021.

iaip2109.pdf
Details

Rome, IAI, March 2021, 32 p.

In:


Issue

21|09

ISBN/ISSN/DOI:

978-88-9368-181-0
Introduction
1. African Union dynamics
1.1 The AU structure
1.2 AU reform momentum: Beyond an institutional process
1.3 A single AU voice?
2. Regional connections and member state interests
2.1 From AU to RECs to ROs
2.2 Member states and regional and continental integration
Concluding thoughts
References