Authoritarian Stability through Perpetual Democratisation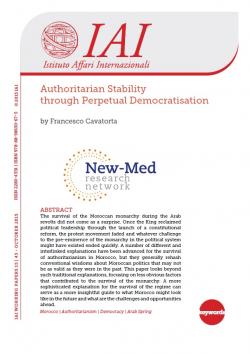 The survival of the Moroccan monarchy during the Arab revolts did not come as a surprise. Once the King reclaimed political leadership through the launch of a constitutional reform, the protest movement faded and whatever challenge to the pre-eminence of the monarchy in the political system might have existed ended quickly. A number of different and interlinked explanations have been advanced for the survival of authoritarianism in Morocco, but they generally rehash conventional wisdoms about Moroccan politics that may not be as valid as they were in the past. This paper looks beyond such traditional explanations, focusing on less obvious factors that contributed to the survival of the monarchy. A more sophisticated explanation for the survival of the regime can serve as a more insightful guide to what Morocco might look like in the future and what are the challenges and opportunities ahead.
Paper produced within the framework of the New-Med Research Network, October 2015. See also Morocco: The Promise of Democracy and the Reality of Authoritarianism, in The International Spectator, Vol. 51, No. 1 (March 2016), p. 86-98.

iaiwp1543.pdf
Details

Roma, IAI, October 2015, 20 p.

Issue

15|43

ISBN/ISSN/DOI:

978-88-98650-67-5
Introduction
1. The Moroccan Spring
2. Why authoritarianism persists
3. What does the future hold?
References