The 2014 Presidential Elections in Turkey: A Post-election Analysis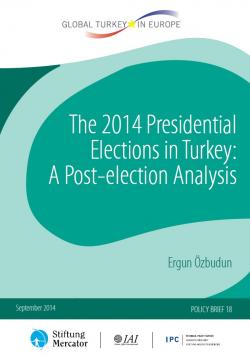 On 10 August 2014, in the first popular election of the Turkish President in the history of the Republic, Prime Minister and Justice and Development Party (AKP) candidate Recep Tayyip Erdoğan was elected in the first round with 51.79 percent of the vote. Highlighting the growing social and political polarization in the country, this paper analyses the results of the elections and the regional distribution of votes for the AKP and contending candidates through a comparison with previous electoral results in the country. Finally the analysis addresses the significance of the presidential elections for the future of Turkish politics and Turkey's democratic system.
Paper produced within the framework of the project Turkey, Europe and the World.

gte_pb_18.pdf
Details

Roma, Istituto affari internazionali, September 2014, 5 p.

Issue

Policy brief 18