Salvatore Farina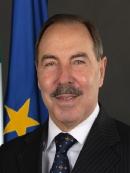 Position
Scientific advisor
Biography
Salvatore Farina was an Italian Chief of Army Staff (February 2018–February 2021). He previously served as the commander of Allied Joint Force Command Brunssum (March 2016–February 2018), Chairman of the Committee for the implementation of the 2015 Italian Defense White Paper (May 2015–February 2016) and as the commander of the Kosovo Force (NATO Joint Enterprise in Kosovo - COMKFOR, September 2013–September 2014).
He is currently Professor at the Lateran University where he teaches "Peacekeeping and Conflict Transformation"; Lecturer-Collaborator in various masters at LUISS Rome; President of the Army Study Center.
Salvatore Farina has earned degrees in electrical engineering from the University of Padua, in strategic science from the University of Turin and in international politics and diplomatic relations from the University of Trieste.
He has been contributing to several magazines such as Rivista Militare, Informazioni della Difesa, Tecnologia e Difesa, British Army Review, Defence Review.