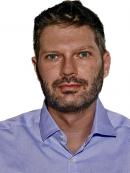 Matteo Bonomi is Research Fellow at IAI, working on "EU, politics and institutions" and "Eastern Europe and Eurasia" programmes. His professional experience has been increasingly related to EU enlargement policy, in particular to the Balkan - EU integration process. He has worked and cooperated with various institutes, think tanks, foundations and administrative agencies in Belgium, Germany, Italy, Serbia, Montenegro, Bosnia and Herzegovina and Albania. His PhD dissertation was on "European Integration and the Crisis of the Nation State. Analysis of the Interlinkages between Law and Politics within the EU", defended at the Scuola Superiore Sant'Anna in Pisa.
Nicoletta Pirozzi, Matteo Bonomi, Tiziano Marino
Rome, IAI, February 2019, 9 p.

Nicoletta Pirozzi, Matteo Bonomi
Rome, IAI, January 2019, 4 p.
Matteo Bonomi
Roma, IAI, July 2017, 12 p.