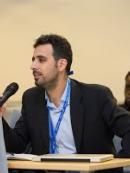 Marco Sanfilippo holds a Phd in Development Economics from the University of Florence, and is currently an assistant professor at the Institute of Development Policy and Management, University of Antwerp. Before, he has been working at the European University Institute, the Bank of Finland, Fondazione RES, University of Eastern Piedmont and consulted for international organization such as UNICEF, UNIDO and UNU-Wider.
His main research interests is on the role of FDI from emerging economies, on the globalization of Chinese firms, and on the role of firms and structural transformation in developing countries.
Nicola Casarini, Marco Sanfilippo
in Mikko Huotari et al. (eds.), Mapping Europe-China Relations. A Bottom-Up Approach. A Report by the European Think-tank Network on China (ETNC), Berlin, Mercator Institute for China Studies, October 2015, p. 46-50
In:
Other papers/articles
Marco Sanfilippo
Roma, Istituto affari internazionali, December 2014, 31 p.