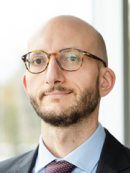 Marco Giuli is Associate Fellow at the Istituto Affari Internazionali (IAI), where he contributes to the Programme "Energy, Climate and Resources." Marco is a Researcher at the Institute for European Studies of the Free University of Brussels (VUB) and an Associate Policy Analyst at the European Policy Centre (EPC). Previously, he led the EPC Climate and Energy Platform and was a Researcher and Project Manager at the Madariaga–College of Europe Foundation. He was a trainee at the Centre for European Policy Studies (CEPS) in Brussels and the Italian Trade & Investment Agency (ICE) in Moscow. He holds a MA in Economics and Politics of European Integration from the University of Bologna and a BA in International Relations from the University of Rome.
His publications include:
● "Adapting to change: Time for climate resilience and a new adaptation strategy" (with Sofia López Piqueres and Annika Hedberg), in EPC Issue Papers, 5 March 2020
● "Il clima al centro: ragioni e conseguenze del Green deal europeo", in Limes, 18 dicembre 2019
● "La neutralità climatica e la sicurezza energetica dell'Europa", in Limes, 19 novembre 2019
● "Euro: energia, maggiore statuto = maggiore peso geo-economico", in AffarInternazionali, 3 ottobre 2019
● "Paris-proofing the next Multiannual Financial Framework", in EPC Discussion Papers, 25 June 2019
● "Nord Stream 2: Rule no more, but still divide", in EPC Issue Papers, 25 June 2018
● "The long journey to end energy poverty in Europe" (with Claire Dhéret), in EPC Policy Briefs, 16 June 2017
● "Russia's nuclear energy diplomacy in the Middle East: why the EU should take notice", in EPC Policy Briefs, 21 February 2017

Marco Giuli
Rome, IAI, June 2020, 5 p.
Marco Giuli
(with Gauri Khandekar and Sven Van Kerckhoven) in GOVTRAN Policy Briefs, No. 2020/04 (June 2020)
In:
Other papers/articles