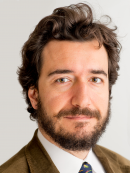 Giulio Pugliese is Associate Fellow (Asia-Pacific) at the Istituto Affari Internazionali (IAI) and a Lecturer in War Studies at King's College London. He is an Italian citizen and specialises in great power politics in the Asia-Pacific with a focus on Japan, China and the United States. He has presented at a variety of academic and Track 1.5 venues, and published articles and contributing chapters concerning academic, policy-oriented and commercial themes in Europe, the US and Japan. He holds a PhD from the University of Cambridge and has held visiting scholar positions at the Graduate Research Center for Policy Studies (GRIPS), Tokyo, at Oxford University (St. Antony's College), at George Washington University, Washington DC, and at the Paul H. Nitze School of Advanced International Studies (SAIS), Johns Hopkins University, where he also completed his M.A. He has lived for a total of about five years in Japan and has co-authored a book, Sino-Japanese Power Politics. Might, Money and Minds (Palgrave Macmillan, 2017), which is also available in Korean.
See also http://kcl.academia.edu/GiulioPugliese.

Giulio Pugliese
The International Spectator, Vol. 55, No. 1, March 2020, p. 154-156
In:
The International Spectator
Giulio Pugliese
Roma, IAI, February 2018, 5 p.