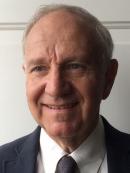 Franco Passacantando is scientific advisor at IAI, senior fellow at the LUISS School of European Political Economy in Rome, and board member in some Italian and international private companies. He held several positions at the Bank of Italy, including that of Head of the Monetary Sector of the Research Department and of Managing Director in charge of relations with international institutions. From 1995 to 2013 he was Executive Director at the World Bank and from 2013 to 2018 Expert Member of the Board of the European Investment Bank.
He has a degree in Statistics from La Sapienza University of Rome and a Master of Arts in Economics from Stanford University.

Nicola Bilotta, Fabrizio Botti,
Bern [etc.], Peter Lang, 2021, 200 p. : ill.
In:
Global Politics and Security

Nicola Bilotta, Franco Passacantando
Rome, IAI, July 2019, 4 p.