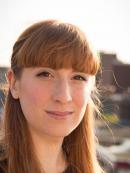 Francesca Ghiretti is a researcher in the field of Asia studies at Istituto Affari Internazionali (IAI), where she mainly works on projects regarding Chinese foreign policy, Italy-China relationship and Europe-China relationship. She is a PhD candidate at King's College London, looking at Chinese FDI in the EU. After obtaining her Laurea Triennale in Asian languages, markets and cultures (curriculum China) from the University of Bologna, she graduated from the MSc in International Relations and Diplomacy at Leiden University and the Clingendael Institute. She interned at the European Parliament and worked for Jaap de Hoop Scheffer, former Secretary General of NATO.

Francesca Ghiretti, Lorenzo Mariani
in John Seaman (ed.), Covid-19 in Europe-China Relations A country-level analysis. ETNC Special Report, Paris, French Institute of International Relations (Ifri), 29 April 2020, p. 35-39
In:
Other papers/articles

Francesca Ghiretti
Rome, IAI, March 2020, 4 p.

Francesca Ghiretti
Rome, IAI, February 2020, 4 p.