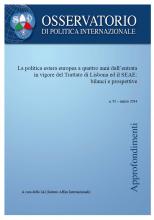 L'entrata in vigore del Trattato di Lisbona ha previsto numerose innovazioni nei riguardi dell'azione esterna dell'Unione europea, in particolare l'istituzione di nuove cariche istituzionali, organi e procedure. A quattro anni dall'introduzione di questi cambiamenti, permangono ancora numerosi dubbi sul loro effettivo contributo al sostegno della politica estera europea. Pur con la creazione di un Presidente permanente del Consiglio europeo e di un Alto rappresentante, dotati entrambi di funzioni di rappresentanza, il sistema europeo continua ad apparire troppo complesso. L'ampio mandato dell'Alto rappresentante ha rivelato i suoi limiti, e la creazione del Servizio europeo per l'azione esterna, all'inizio del 2011, si è rivelata non priva di problemi. Messa alla prova, l'azione esterna dell'Ue ha continuato a soffrire molte delle mancanze attribuitegli negli anni pre-Lisbona. Ciò ha comportato l'inattività iniziale dell'Unione durante gravi crisi, come quelle in Libia, Mali e Siria, dove le risposte europee sono risultate tardive, insufficienti o assenti. Dall'analisi dei casi selezionati emerge un assetto istituzionale ed un processo decisionale in ambito Pesc/Psdc sbilanciato a favore della piena tutela degli interessa nazionali, a volte contrastanti e divisivi. Conclusione dimostrabile a contrario dall'azione esterna condotta dalla Commissione tramite le competenze comunitarie, i cui differenti processi decisionali le hanno permesso di adottare risposte, in tempi rapidi, in tutti gli scenari di crisi. Questo "deficit genetico" imputabile alla Pesc/Psdc ha ridotto l'efficacia delle innovazioni introdotte con il Trattato di Lisbona che, seppur criticabili sotto certi aspetti, mantengono un potenziale ancora inesplorato.
Paper produced within the framework of the project International Relations Observatory.
Details:
Roma, Camera dei deputati, March 2014, 22 p.
Introduzione
1. Le riforme istituzionali introdotte dal Trattato di Lisbona nell'ambito della politica estera
   1.1 L'Alto Rappresentante dell'Unione per gli affari esteri e la politica di sicurezza
   1.2 Il Servizio europeo per l'azione esterna
2. La Politica estera e di sicurezza comune alla prova: i casi post-Lisbona
    2.1 Rivoluzioni e transizioni democratiche in Tunisia ed Egitto
    2.2 La guerra in Libia
    2.3 La crisi in Mali
    2.4 I negoziati sul programma nucleare iraniano
    2.5 La guerra civile in Siria
Conclusioni