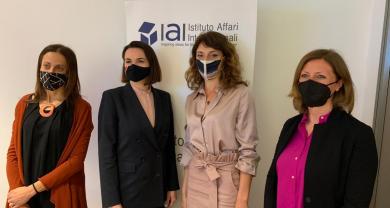 Protests against Lukashenko are going on while Sviatlana Tsikhanouskaya leads the Belarusian opposition. Over the last few months, the political situation has reached an impasse in Belarus. The regime refuses to engage the opposition in a meaningful dialogue and has tightened repression. Who could change the situation? And what could the role of the Transatlantic community be in a geopolitical context where the Kremlin supports the dictator while successfully discouraging Western intervention?
During the webinar "Revolution, reform or revamped authoritarianism: Belarus at a crossroad", organized by IAI on April 30, 2021, Nathalie Tocci (IAI director) talked with the leader of the Belarusian opposition.
In the photo, from left: Nathalie Tocci, Sviatlana Tsikhanouskaya, Nona Mikhelidze (senior fellow and expert in Russia), Nicoletta Pirozzi (head of the "EU, politics and institutions" programme and IAI institutional relations manager).