Balkan Dialogues: Defusing Geopolitical Tensions in the Western Balkans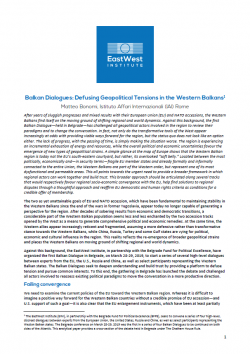 After years of sluggish progresses and mixed results with their European Union (EU) and NATO accessions, the Western Balkans find itself on the moving ground of shifting regional and world dynamics. Against this background, the first Balkan Dialogue—held in Belgrade—has challenged all geopolitical actors involved in the region to review their paradigms and to change the conversation. In fact, not only do the transformative tools of the West appear increasingly at odds with providing viable ways forward for the region, but the status quo does not look like an option either. The lack of progress, with the passing of time, is simply making the situation worse. The region is experiencing an incremental exhaustion of energy and resources, while the overall political and economic uncertainties favour the emergence of new types of geopolitical strains. A simple glance at the map of Europe shows that the Western Balkan region is today not the EU's south-eastern courtyard, but rather, its overlooked "soft belly." Located between the most politically, economically and—in security terms—fragile EU member states and already formally and informally connected to the entire Union, the Western Balkans are part of the Western order, but represent one of its most dysfunctional and permeable areas. This all points towards the urgent need to provide a broader framework in which regional actors can work together and build trust. This broader approach should be articulated along several tracks that would respectively favour regional socio-economic convergence with the EU, help find solutions to regional disputes through a thoughtful approach and reaffirm EU democratic and human rights criteria as conditions for a credible offer of membership.
Report of the first Balkan Dialogue, organized in Belgrade on 28-29 March 2019 by the EastWest Institute, in partnership with the Belgrade Fund for Political Excellence.
Details

Brussels, EastWest Institute, 26 June 2019, 4 p.

In: