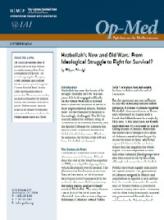 Hezbollah has seen the fronts of its struggle multiply over the last two years. It is both engaged militarily on the Syrian front and is dealing with a domestic situation in which it faces unprecedented attacks. Furthermore, its international reputation is increasingly challenged. The EU has recently added the military wing of Hezbollah to its terrorist blacklist, and the Special Tribunal for Lebanon has added a fifth Hezbollah member to its list of indicted persons. Whatever its outcome, the Syrian crisis will not leave Hezbollah unchanged.
Paper produced within the framework of the IAI-GMF strategic partnership [2].
Details:
Washington, German Marshall Fund of the United States, 2013, 4 p.
Attachments:

Op-Med_21.pdf
[4]