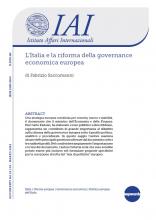 A Shared European Policy Strategy for Growth, Jobs, and Stability, the document prepared by the Italian Minister of Economy and Finances, Pier Carlo Padoan, in late February, makes an important contribution to the debate on the reform of European governance from political, analytical and procedural points of view. In this paper, the author examines some of the main issues raised by Padoan's document from these three angles. The author broadly agrees with the document's approach and thesis, but notes that it could have been more precise in formulating specific proposals for correcting the course of Europe's "policy mix."
Paper prepared for the Istituto Affari Internazionali (IAI). Other version: "Il rilancio di Padoan sull'Ue [2]", in AffarInternazionali, 15 March 2016.
Details:
Roma, IAI, March 2016, 6 p.
Attachments:

iai1604.pdf
[4]
Introduzione
1. Il profilo politico
2. Il profilo analitico
3. Il profilo procedurale