The next generation workshop - 3.ed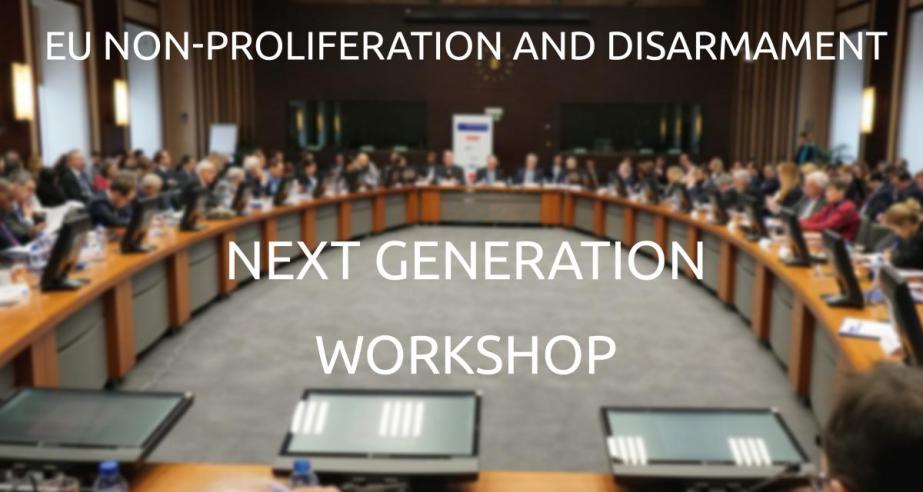 The Istituto Affari Internazionali, on behalf of the EU Non-Proliferation and Disarmament Consortium, is organizing a "Next Generation Workshop". The workshop will be held virtually on
15 December 2021, from 1 pm to 4 pm Central European Time (CET) and on
16 December 2021, from 1pm to 4pm Central European Time (CET).
The call is open to:
Junior diplomats, Undergraduate, M.A and PhD students, researchers and professionals with proven experience in the Arms Control, Non-Proliferation and Disarmament field who would like to make a presentation at the Workshop
Students and youg professionals interested in only attending the Workshop, without delivering a presentation.
Selected speakers will be invited to make a presentation in one of the Workshop's four sessions on the following areas/topics:
Session A: Non-Proliferation and Disarmament Challenges in the Middle East

Session B: Arms Trade Regulation and the Fight Against Illicit Small Arms and Light Weapons (SALW)

Session C: The Risk of a Nuclear Arms Race in the Indo-Pacific Region

Session D: The Impact of Emerging Technologies on International Security and Arms Control: From Cyber Attacks to Autonomous Weapons
Presentations should offer the speakers' view on the topic under discussion and will be followed by comments from other participants, including EU officials. Each session will be chaired by members of the EUNPD Consortium and Network.
Selected participants will also be invited to virtually participate in the 2021 EU Non-Proliferation and Disarmament (EUNPD) Conference, on 6-7 December 2021. 
Candidates can be from both the EU or non-EU countries.
Age limit: 36 years old by the end of 2021. 
Applicants must specify if they are applying as attendees or as speakers
Application material:
Résumé or CV (max 2 pages)
Cover letter detailing:

the applicant's motivations for taking part in the exercise
specifying the chosen topic for the presentation from the list above (only for speakers)

300-word abstract of the presentation (only for speakers)
One letter of reference
Please note that incomplete applications won't be considered. 
Application process:
Applicants must submit their candidacy by 15 November 2021 to eunpdc(at)iai.it [2]
Only selected candidates will be contacted by 25 November 2021.
Young women are highly encouraged to apply.