Boosting Defence Cooperation in Europe: An Analysis of Key Military Capabilities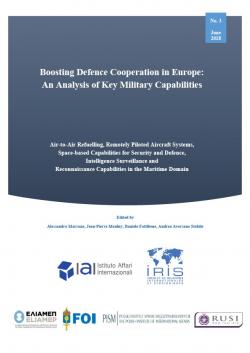 This study aims at analysing the developments regarding key military capabilities of 31 European countries in four specific areas: Air-to-Air Refuelling (AAR), Remotely Piloted Aircraft Systems (RPAS), Space-based capabilities for security and defence, Intelligence Surveillance Reconnaissance (ISR) capabilities in the maritime domain. A chapter is dedicated to each area, by focusing on estimated expenditures, capability development, and cooperation among the considered countries. In doing so, it takes into account the developments occurred in the timeframe going from September 2017 until early May 2018.

The study is based on the compilation and analysis of open source information conducted as part of the project "Permanent Monitoring and Analysis of military capabilities and defence sector trends" (PMA), managed by a consortium of European think tanks and funded by the European Defence Agency (EDA).

pma_3.pdf
Details

Rome, IAI, June 2018, 44 p.
Introduction
Executive Summary

Air-to-Air Refuelling (AAR)
Estimated Expenditure
Capabilities
Cooperation

Remotely Piloted Aerial Systems (RPAS)
Estimated expenditure
Capabilities
MALE RPAS
Tactical RPAS
Small, mini and micro RPAS
Counter-RPAS: a new and growing sector
Cooperation

Space-Based Capabilities for Security and Defence
Estimated expenditure
Capabilities
Earth Observation
SATCOM
Cooperation
Earth Observation
SATCOM

Intelligence Surveillance Reconnaissance (ISR) Capabilities in the Maritime Domain
Estimated Expenditure
Maritime Patrol Aircraft (MPA)
Capabilities
Cooperation
Naval helicopters with ISR Tasks
Capabilities
Cooperation
Naval units under 3,000 tons
Capabilities
Cooperation
Maritime Unmanned Aerial Vehicle (UAV) and Unmanned Underwater Vehicle (UUV)
Capabilities
Cooperation

Annex I – Expenditure Estimate's Explanation
Introduction
Number of Countries
Available Sources
Variation across PMA31 Countries
Multiannual Investments
Currency Exchange Rate
Rounding
Specific Clarifications for Different Chapters
Chapter 1 – Air-to-Air Refuelling (AAR)
Chapter 2 – Remotely Piloted Aerial Systems
Chapter 3 – Space-based capabilities for Security and Defence
Chapter 4 – ISR Capabilities in the Maritime Domain

List of Acronyms