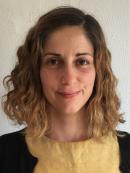 Asli Selin Okyay is a senior fellow at the Istituto Affari Internazionali (IAI). Before joining the IAI in 2017, she was a post-doctoral research associate at the ERC-funded "Borderlands" project hosted by the Robert Schuman Centre for Advanced Studies, European University Institute. She obtained her Ph.D. (2015) in Political and Social Sciences from the European University Institute, Florence, and her M.Phil in Migration Studies from the University of Oxford (2009). Her expertise is on migration and border management, and her research particularly focuses on the EU's external migration policies towards third countries in the Southern Mediterranean, including Turkey.
Her publications include "Contentious Borders: The Middle East and North Africa post-2011", special issue of International Affairs Vol. 93, No. (2017), co-edited with Raffaella A. del Sarto and Louise Fawcett.

Asli Selin Okyay
Roma, IAI, June 2017, 14 p.
In:
Global Turkey in Europe

Asli Selin Okyay, Jonathan Zaragoza-Cristiani
p. 51-66
In:
The International Spectator